The core of development at TSC is agriculture. In addition to the vast land resources, TSC also has abundant experience in large-scale farming, agricultural processing and livestock farming technologies. With these resources, it is advantageous for the promotion of new agriculture, circular economy, biotechnology, green energy and related industries. Therefore, we have set an overall business strategy for the coming 5 years, and will make use of our existing resources, technology and experience to actively become a benchmark enterprise in the health and green industry. Specific methods include to "Meet People's Livelihood Demands and Social Needs" on the bases of "Circular Economy" and "Resources and Environmental Protection", and to enhance external influence and professional energy through "Investment and External Cooperation". Meanwhile, internally, we will continue the reorganization, strengthen the management physique and improve the operational efficiency.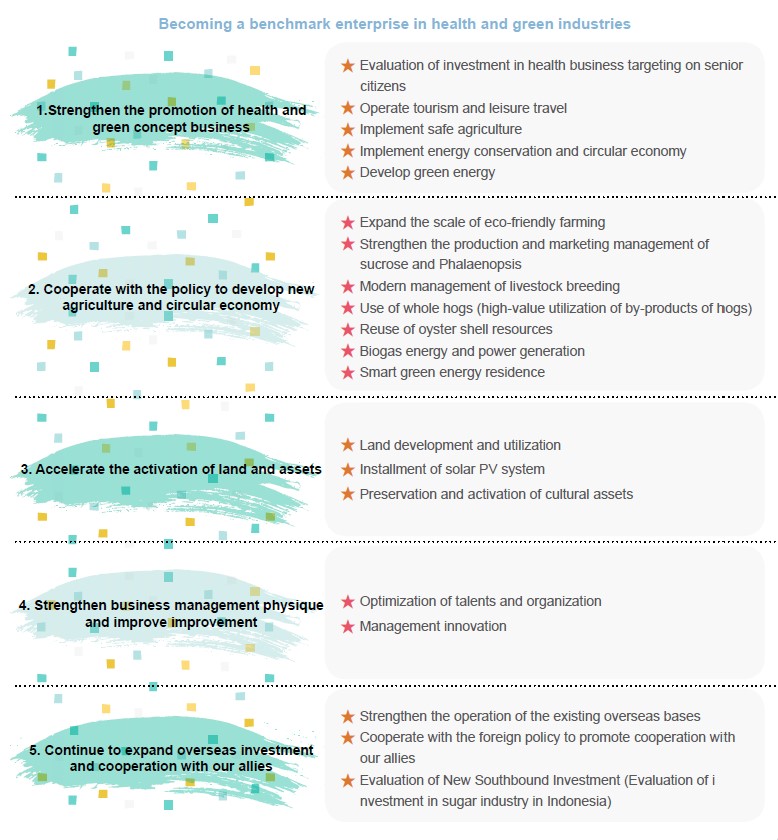 Related files:
Sustainable Development Policy - Full Content(127Kb)

---
The "TSC Corporate Sustainable Development Committee" was established to implement the sustainable development of the Company. Meanwhile, procedure documents of "TSC's Regulations for the Organization of Corporate Sustainable Development Committee" and "Operation Guidelines for Corporate Sustainable Development Committee" were established, incorporating corporate sustainable development into the corporate operations and development directions and develop corporate sustainable development policy, system and relevant management approaches. The annual work plan and work execution report are prepared every year and are submitted to the Corporate Sustainable Development Committee for discussion, and will be implemented in the future upon approval, promoting the company's sustainable development work in a more pragmatic manner. Economic, environmental and social issues arising from the operation activities are handled by the senior management authorized by the board of directors and then reported to the board.


Related files: