To cooperate with the government's "Healthy Taiwan" policy, TSC actively engages in the afforestation and greening of Taiwan. We promote nationwide afforestation, the Green Linyuan Avenue and flatland afforestation to protect the environment and maintain biodiversity so as to enable the public to enjoy the social progress and economic balance. As of 2019, the afforestation tending area in Taichung, Changhua, Yunlin, Chiayi, Tainan, Kaohsiung, Pingtung, Hualien and Taitung totaled 12,014 hectares, equivalent to the area of ​​about 475 Taipei Daan Forest Park, including 420 hectares of afforestation by the public, 388 hectares of eco-friendly parks, 389 hectares of afforestation at the planters' expense and 10,817 hectares of afforestation on the flatland. According to the calculation method proposed by the UN Intergovernmental Panel on Climate Change (IPCC), the average annual carbon dioxide sequestration per hectare of forest land per year is about 14.9 tons, and afforestation can facilitate 179,009 tons of carbon dioxide sequestration annually. Currently, TSC's afforestation land includes Aogu Wetland, the largest flatland forest park in Taiwan. The planning of the wild animal reserves and flatland forest park are being planned.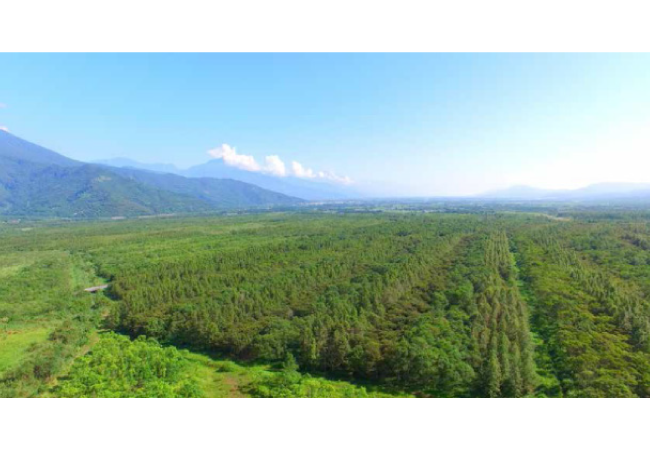 ---
Ecological Maintenance Project in MASADIFOREST, Hualien
It has been 10 years since the establishment of the flatland forest in MASADIFOREST. The native trees planted have become a forest crossing the East Rift Valley, connecting the Coastal Mountains and the Central Mountain Range. The park was officially open on May 21, 2011, making it the first successfully recovered flatland forest and the most accessible forest in Taiwan. The development of the park is divided into two cultures (sugar culture and aboriginal culture) and two ecological systems (low-carbon ecotourism and ecological conservation). After one-year survey conducted by Taiwan Forestry Research Institute, in addition to the afforestation sites that can provide habitats for animals, the existing pools, paddy fields, river courses, ditches and the areas after fallow are also important animal habitats, making MASADIFOREST a park with true biodiversity.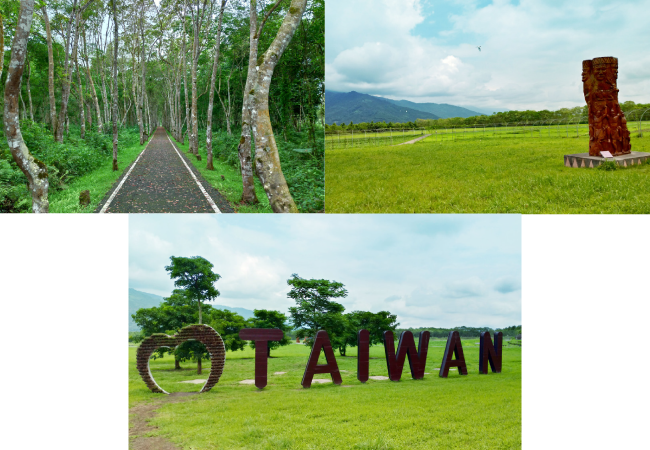 ---
Aogu Wetland in Dongshi Township, Chiayi
There are a large number of migratory birds and aquatic birds in Aogu Wetland. Besides, it is near tourist attractions like Gangko Temple of Bungang Port and Dongshi Fishing Harbor, rich in environmental educational significance. Aogu Wetland is planned to be developed into a wetland park and the affiliated Dongshi Farm was planned to serve as a wildlife reserve. Among it, 1,462 hectares of land was planned as a flatland forest park by the Forestry Bureau (including 664 hectares of land proclaimed by COA as a habitat for wildlife and 512.1 hectares of national important wetland proclaimed by Ministry of Interior).
Currently, Aogu Wetland is the largest flatland forest park in Taiwan. It has a variety of ecological environment and habitat patterns including wetland, sandbars, fish farms, afforestation areas and agricultural areas, and is also an important wintering area for migratory birds. There are as many as 259 species of birds (including 96 species of migratory birds and 46 species of birds in conservation), amphibians and reptiles, creatures of the night, benthods and other wild animals that inhabit and breed here, making it a place rich in environmental educational significance. The Forestry Bureau cooperated with Chiayi University to carry out bird monitoring and establish the monitoring system in Aogu Wetland Forest Park.
Haipu Livestock Farm is located in the Aogu Wetland Forest Park, with an area of 17.815 hectares. It is a legal pig farm approved by Chiayi County government. The water discharged from this site has long provided bio-nutrients to Aogu Wetland, and it is also an important factor for this region to maintain diversified biological phase and ecological balance.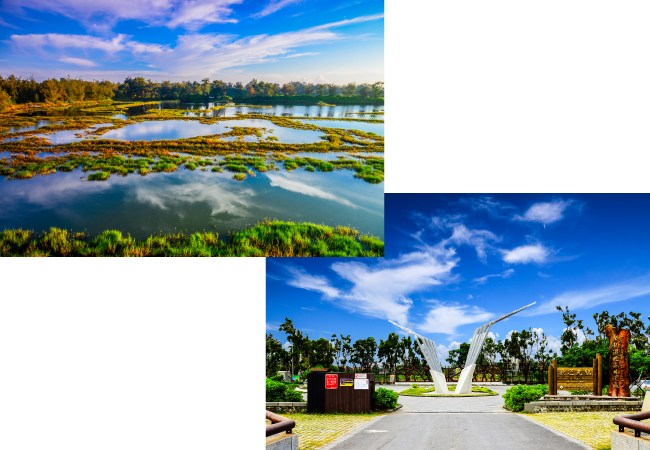 ---
Jacana Ecological Education Park in Guantien
Hydrophasianus chirurgus is also named pheasant-tailed jacana. In the 90's, its population gradually decreased due to the changes in its habitat. The breeding population used to drop to below 50 and the species faced a crisis of extinction. They could only be found in the water chestnut fields in the plain area between the Bajhang River and Zengwen River in Tainan Area.
In 1980, due to the development of Taiwan's high-speed railway, the route planned happened to pass through this important habitat of pheasant-tailed jacana, Hulupi in Guantian Township. After coordination, Tainan City Government rented TSC's property at Fanzitian Section No. 767 and others with a total of eight pieces of land, with the area of approximately 15 hectares to establish the Jacana Ecological Education Park in Guantian for the implementation of the breeding plan, creating a pond-based breeding area for pheasant-tailed jacana. As of 2019, the number of adult birds was 112, the number of nests was 153, that of eggs was 487, that of the hatched was 135, and that of fledglings is 79. So far, the number of pheasant-tailed jacana in the Great Tainan Area has reached 1,741, and among them, 1,466 are in Guantian alone, hitting a record high.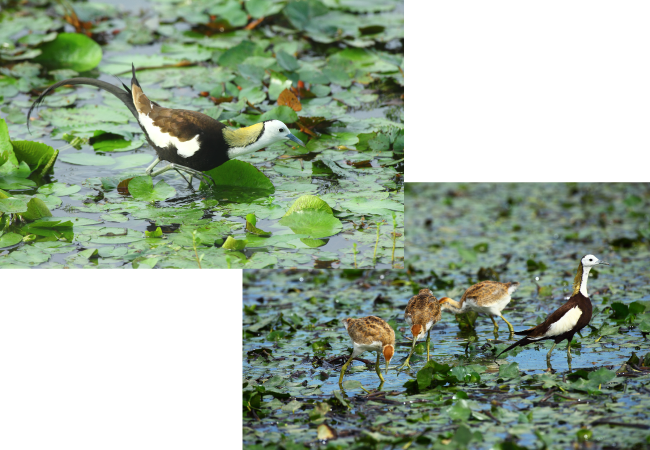 ---
Haifeng Wetland
Haifeng Wetland is located near the Chonglan Jiuzhen (canal) in Haifeng Area. Pingtung County Government rented the 13.74-hectare land from TSC and planned a primary sedimentation tank, natural purification channels and a 6-hectare ecological pond as the means of purifying the water quality of Chonglan Jiuzhen (canal), injecting water into the old waters. Haifeng Wetland is rich in ecological species. A variety of water birds and insects coexist in this symbiotic relationship. In addition to the aquatic plants that purify water quality, willow trees are also planted by the ecological pond. The bright and open natural scenery is like a land without pollution. Take a deep breath and close your eyes, this place is undoubtedly an ecological paradise to all.