Identification of and Communication with Stakeholders
The identification of and communication with the stakeholders are the foundation for the implementation of corporate sustainable development. TSC maintains multiple communication channels with our stakeholders and carefully listens to the stakeholders' voice. The stakeholders' needs and expectations of TSC are taken as the reference for decision making. TSC hopes to create and share the maximum possible benefits with its stakeholders in the diversification of business activities.
Corporate Sustainable Development Committee and executives in all departments held internal discussions and with the reference to stakeholder groups identified by the same trade, 21 categories of stakeholders were identified. Based on the criteria of AA1000 Stakeholder Engagement Standards (AA1000SES) for the scoring and prioritization of the stakeholders, seven categories of stakeholders were finally identified, including shareholders, employees, consumers/clients, raw material suppliers/contractors/agents, government agencies/elected representatives, media, and community residents. We regularly and irregularly make official communication and exchanges with the external world via TSC's official website, Annual Report, Taiwan Sugar Communication, and the CSR Report. We also make use of other channels to understand the stakeholders' issues of concern and provide relevant responses and description.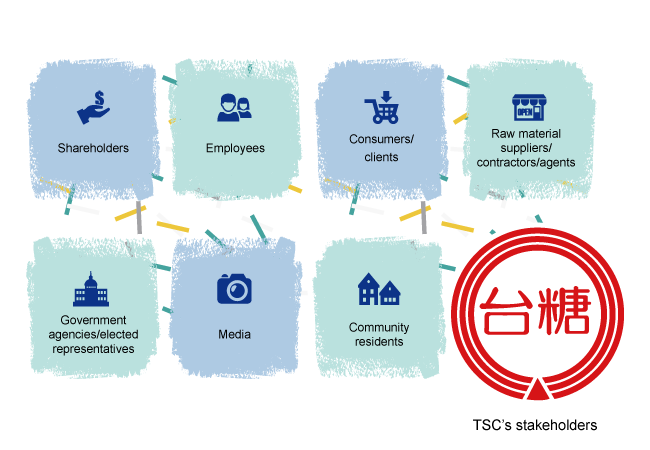 Related files:
Identification of Stakeholders - Full Content(95Kb)

---
TSC believes that for the sustainable development of a corporation, it is necessary to listen to the stakeholders' opinions as important reference for sustainable development. Internally, TSC takes the initiatives to communicate with our stakeholders through our official website, trade union, related meetings, Annual Report, TSC Communication, internal publications, CSR questionnaire, customer services and other channels to understand the stakeholders' issues of concern. In addition, through the coordination and communication among internal departments and units and based on our previous experience cooperating with our stakeholders, we set a SOP of PDCA (Plan-Do-Check-Act) to make prompt responses based on the sensitivity and level of impact of the nature of issues.
TSC's Communication Channels with its Stakeholders
Stakeholders
Significance of Stakeholders
Issues of Concern
Communication Channels
Frequency
Communication Effectiveness in 2019
Shareholders
In the stakeholder structure, government agencies hold 96.51% of shares. They focus on TSC's operating performance, corporate governance and sustainable development.
Integrity Management

Marketing and Labeling

Providing land for urban planning

Indirect Economic Impacts

Anti-corruption

Effluents and Waste
CSR questionnaire survey
Shareholders' meeting
Annual report/financial report
Official document exchanges
TSC official website
External communication mailbox
Annually
Annually
Regularly
Occasionally
Instantly
Instantly
One shareholders' meeting was held. The shareholders expressed their opinions fully in the meeting and these opinions were included in the meeting minutes. The remarks made by the shareholders regarding the provisional motion at the general shareholders' meeting were replied to the individual shareholders in letters.
Employees
We regard our employees as the Company's most important assets and the cornerstone of our growth. Therefore, we value our employees' opinions and hope to create a workplace for them to enjoy work and life.
Labor/ Management Relations

Socioeconomic Compliance

Education and Training

Occupational Health and Safety

Customer Health and Safety
CSR questionnaire survey
Taiwan Sugar Communication
Official document exchanges
TSC official website
Opinion exchange platform
Trade Union Confederation Congress
Labor-Management Meeting
Employee Welfare Association
Employee satisfaction survey
Annually

Monthly

Occasionally
Instantly
Instantly
Annually
Quarterly
Occasionally
Annually

In order for smooth labor-management communication, all the units held a total of 86 labor-management
meetings by 2019.

Meetings of the Federation of
Trade Union Confederation and the Employee Welfare Association are held annually to provide various welfare measures for the employees and their family dependents, and the labor-management relationship is
harmonious.

The satisfaction survey score was 74.2 points in 2019 employee satisfaction survey.
Consumers/clients
As a state-owned enterprise, the products and services TSC provides should be the model and example for the domestic food industry, and we also play a leading role in food safety in particular. Therefore, the recognition and advice given by our consumers/clients are the driving force for our continuous efforts and growth.
Customer Privacy

Customer Health and Safety

Marketing and Labeling

Socioeconomic Compliance

Effluents and Waste
CSR questionnaire survey
Customer complaint mailbox
Customer Service Hotline
TSC official website
FB TSC Fanpage
Customer satisfaction survey
Service desk at operation branches
External communication mailbox
Annually
Instantly
Instantly
Instantly
Instantly
Annually
Instantly
Instantly
The Customer Complaint Mailbox is set up to handle customers' inquiries, suggestions and complaints. In 2019, a total of 439 inquiries and 4,899 phone calls were received. All the consumers' opinions were responded appropriately to solve the consumers' problems.
Raw material suppliers/contractors/agents
We attach great importance to the quality of raw materials and labor services our distribution partners provide. We cooperate with our partners in an impartial, open and fair manner to achieve the goals of benefits sharing and sustainable development.
Marketing and Labeling

Customer Health and Safety

Socioeconomic Compliance

Supplier Environmental Assessment

Environmental
Compliance

CSR questionnaire survey
Symposium/education and training
Supplier Evaluation Questionnaire
TSC official website
External communication mailbox
Agents meeting
Face to face communication
Purchase/ Distribution contract
Annually
Occasionally
Annually
Instantly
Instantly
Quarterly
Occasionally
Contract period
All the purchases were made in accordance with the Government Procurement Act, and there were no incidents of corruption. We conducted 18 irregular supplier audits and held 1 supplier symposium.
Government agencies/elected representatives
As a state-run business, opinions or inquiries expressed by the government agencies/elected representatives are the driving force for our continuous growth, and they are also the keys to our operating performance and sustainable development.
Socioeconomic Compliance

Environmental
Compliance

Effluents and Waste

Customer Privacy

Circular
Economy
Corporate governance evaluation
Field inspection of work performance
CSR questionnaire survey
TSC official website
Official document exchanges
Discussion meetings
External communication mailbox
Annually
Annually
Annually
Instantly
Occasionally
Occasionally
Instantly
The government agencies or elected representatives care about the major issues of TSC, and in 2019, there were 296 times of official document exchanges, 230 discussion meetings with relevant government agencies, and we responded to the elected representatives' opinions promptly.
Media
As a state-run business, we attach great importance to the interaction with the media. If there are important events related to the Company, we respond promptly to the media to maintain and enhance the Company's image.
Labor/
Management
Relations

Emissions

Local
Communities

Employee Diversity and Equal Opportunity

Economic
Performance
CSR questionnaire survey
TSC official website
Press conferences
External communication mailbox
SMS notifications
New product presentation
Annually
Instantly
Occasionally
Instantly
Occasionally
Occasionally

All sectors of the society are concerned about major issues of TSC. We respond immediately to the media and hold press conferences for major issues. In 2019, we held press conferences and released press releases 71 times, with a total of 8,591 SMS notifications.
Community residents
We are committed to maintaining community relations. Through communication and interaction with community residents, we can understand the residents' issues of concern and establish a harmonious relationship.
Effluents and Waste

Customer Privacy

Sustainable Food

Socioeconomic Compliance

Environmental
Compliance
CSR questionnaire survey
TSC official website
External communication mailbox
Visiting the neighborhood
Reaction through elected representatives
On-site communication of person in charge
Annually
Instantly
Instantly
Occasionally
Occasionally
Occasionally

TSC maintains a harmonious relationship with its neighboring communities and maintains the community environment with its neighbors. In 2019, TSC held a total of 185 neighborly activities.