The Board of Directors is the Company's highest governance body. The chairman is also the chairman of the shareholders' meeting and the board of directors and not a member of the management team. The president and the vice presidents assist the chairman. The chairman upholds the resolutions of the board of directors for the overall management of the company's business. The vice presidents assist the president according to the division of business. The concept of corporate governance at TSC if implemented from top to bottom. All the important business decisions are implemented based on the resolution of the board of directors.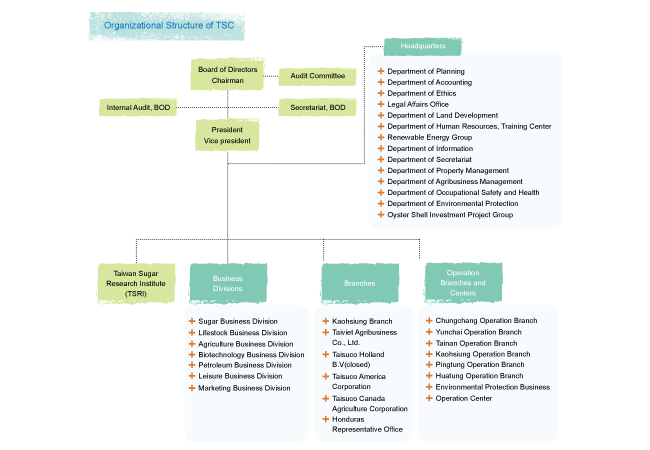 Related files:
Organizational Structure of TSC - Full Content(117Kb)

---
Review of Motions
The Company's board of directors convenes a monthly meeting to review matters reported by management department to the board. In 2019, a total of 13 board meetings were held (the average attendance of directors was 94%). The management department attends the board meeting for consultation according to the content of the motions to enable sufficient time and opportunities for explanation and communication with the board. The Board of Directors reviewed a total of 235 cases, included 100 cases concerning political, economic, environmental and social issues.
Economic, environmental and social issues generated from the operating activities are handled by the senior management authorized by the board of directors. When necessary, the handling situation will be reported to the board of directors. For the resolutions of the board meetings, the monthly follow-up report is reported in accordance with the "Directions for the Operation and Management of Board Meetings" and for those cases that are not closed, quarterly follow-up reports will be made and reported to the board meeting. In addition, the progress of major events and the difficulties and obstacles encountered will be reported by the Business Investment Committee on a quarterly basis.


---
Functional Committees
Secretariat, BOD, handles such matters as shareholders' meeting, board of directors, corporate governance and company change registration, assists in strengthening the functions of the board of directors and enhances the efficiency of the proceedings. Under the Board of Directors, there are three functional committees, the Audit Committee, the Business Investment Committee and the Land Resources Committee. In 2019, the results of the self-assessment of the performance appraisal of the Board of Directors (Functional Committees) showed that among the 52 items of assessment, 52 were rated as "excellent", with the overall rating of "excellent".