Climate Change Risk
Global climate change not only has caused extreme weather but may also trigger a food crisis. Therefore, all the countries have actively invested in the development of new and alternative energy resources and promoted relevant verification of carbon footprint and environmental performance. The issue of energy conservation and carbon reduction is closely linked with the products and services provided by the companies, which directly or indirectly affect the companies' operation and the consumers' spending behavior.
TSC refers to the framework of Task Force on Climate-related Financial Disclosures (TCFD) to take actions in response to climate change, demonstrating TSC's responsibility and vision on climate issues in order to further allocate capitals more efficiently and move toward the sustainable development of a low-carbon economy.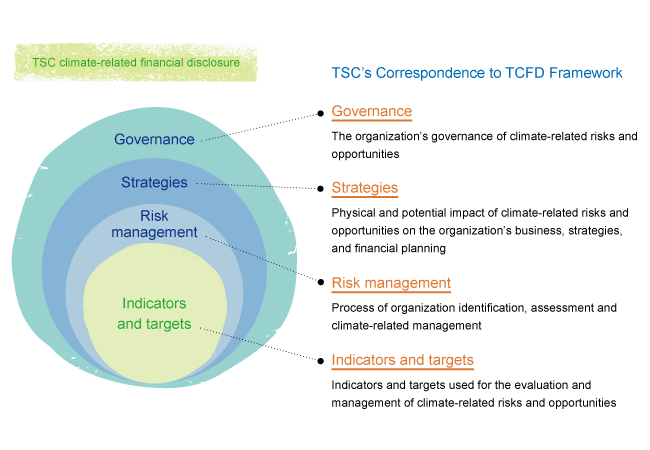 ---
TSC climate-related financial disclosure
TSC's Corporate Sustainable Development Committee supports the implementation of effective management of the climate change and applies the governance of climate risks and opportunities to the operations and asset management of the company.


---
Strategies
After evaluation, the main climate-related risks of the Company are technical and market risks in transition risks, and opportunities are the sources of energy.
Technical and market risks in transition risks
Taiwan Sugar Corporation develops renewable energy and uses livestock excreta and agriculture waste materials with biomass-potential for biogas power generation, supporting the transition process toward a low-carbon future.
We produced 100 certificates of biomass renewable energy, that is, 100,000 kWh of green electricity. In addition, transactions of 83 certificates were completed through the National Renewable Energy Certification Center.

The total power generation capacity of the biogas power generation equipment installed in 2019 was 332,100 kWh, and the annual tax revenue from electricity sales is about NT 1.31 million dollars.
Energy source opportunities
The total power generation capacity of the solar PV power generation equipment installed in 2019 was 5,190,747 kWh, and the annual power generation income at about NT 17.18 million dollars.
---
Risk Management
TFC based its assessment on climate-related risks and opportunities provided by TCFD and divided climate-related risks into two major categories: (1) Transition risks related to low-carbon economy and (2) Physical risks related to climate change. Opportunity created by adapting to climate change for organization include improvement of resource use efficiency and costs, adoption of low-carbon energy, development of new products and services, entry to new markets and the increase of the resilience of the supply chain. TSC's Corporate Sustainable Development Committee assesses climate-related risks and opportunities through the impact on the Company's operations and the possible of occurrence.


---
Indicators and Targets
Introduce Greenhouse Gas Inventory system (ISO 14064-1), Carbon Footprint and Water Footprint to understand TSC's GHG emission framework and adjust countermeasures for future climate change. In addition, energy intensity, GHG emission intensity, and wastewater and waste management in the GRI guidelines are used as the indicators for evaluation and management for the establishment of environmentally related reduction targets, such as GHG, energy resource use, waste reduction and so on.
Other strategies to cope with climate change:
Agricultural production and processing are very important businesses for TSC. Therefore, the stability of climate will affect the operation of Taiwan Sugar Corporation and the supply of raw materials. Meanwhile, in the face of the pressure of carbon reduction, disaster prevention and energy shortages, the costs invested in technological improvements, equipment improvements and environmental protection have also increased year by year, impacting the competitiveness of TSC. In the face of predictable impacts, in addition to promoting energy-saving and carbon reduction campaigns and upgrading equipment for the improvement of energy efficiency, a special team for energy saving and carbon reduction was also set up to actively promote green marketing, develop green manufacturing processes and R&D of green products. Moreover, the use of the land resources and the core capabilities in agriculture are assessed for the cooperation of the policy to plant energy-related crops, develop renewable energy to turn crisis into opportunities.
Policy & Description
Policy
Description
Promote circular economy
Through the integration of agricultural integration, reuse of pig manure, biogas residues, and sugarcane bagasse and water recycling, a recycling network is created to reduce waste of resources and the use of fossil energy.
Carefully choose the timing of raw materials procurement
Internally, TSC set up a Bulk Cereal Procurement Team and a Bulk Sugar Reserve Price Setting Team. As required by the internal control system, the team members have to collect information of bulk materials such as soybeans, corn and sugar, the supply and demand situation and climate change situations at any time, and carefully select a procurement timing based on the production and inventory conditions.
Promote Four Savings Project and strengthen the promotion and training of energy conservation
(1) In accordance with the "Four Savings Project for government agencies and schools", TSC Implemented the promotion of oil conservation, power conservation, water conservation, and paper conservation to reach the effectiveness of energy conservation.
(2) Green energy conservation and environmental protection related training are organized to promote the concept of energy conservation of all employees.
Promote green energy
To work in line with the government's green energy policy, solar PV power generation equipment is installed on self-owned roofs and unfavorable farming land to reduce pollution and carbon emission. To implement the carbon reduction policy, TSC's affiliated livestock farms continue the collection of biogas for power generation, which is in line with the development of the green energy industry. As of 2019, a total of 67 solar power generation facilities as well as biogas power generation facilities in 4 livestock farms were installed, and the overall power generation totaled 0.3321 MWh in 2019.
Promote green afforestation
Afforest on sugarcane land for economic benefits such as the increase of air quality, conservation of water resources and for carbon sequestration. In 2019, the area of afforestation in the plain area was 10,817 hectares.
Promote green procurement policies
To work in line with the Green Purchasing promotion program approved by the Executive Yuan, TSC makes purchase of eco-friendly and green products. In 2019, the green procurement ratio was 99.86%.