Overall Renovation Plan of a Modern Livestock Housin
TSC invested NTD 10.74 billion to remodel 15 livestock farms into modern livestock housing, transforming traditional pig farms into new green livestock housing that takes into account resource recycling and reuse as well as environmental protection, changing the negative impression of polluting animal husbandry industry into an "eco-friendly space, green pig farming and green energy industry". The features of the modern livestock housing include the followings.
Comfortable pig housing with negative pressure ventilation and water curtain can effectively reduce the consumption of water resources, improve ventilation and reduce odor, keeping the environmental clean.

Separating rainwater from sewer and recycling: The new livestock farms adopt the system to separate rainwater from sewer to fully recycle and reuse water resources.

Smart management system: RFID ear tag positioning and transferring management system, 3D image monitor system.

Automatic feeding system: All the pigs bred by TSC are fed with "green feed" (with no antibiotics). The feed formulation is improved and adjusted or new feed formula is developed. In addition, breeding selection is conducted for production of hogs with low-use drugs, no pollution and no drug residues. The traceability system is also introduced to implement food safety compliance.

Animal welfare: Good animal welfare is closely related to food safety and epidemic risks. Feeding management is carried out based on "Guidelines for Production Management in Pig Farms" of the internal control system and the "Animal Industry Act" promulgated by the Council of Agriculture, Executive Yuan is also complied with. In 2019, the slaughterhouses complied with transportation, handling and slaughter regulations for animals and aquatic animals. There were no violations of laws and regulations and the voluntary standards were followed.

Manure and urine collection system + renewable energy: Biogas is produced through the eco-digestion of the mixture of pig manure and urine as well as other agricultural waste. Fermented biogas residues and slurry can be used as fertilizer of the farmland, and the corn, soybeans and other farm produces on the farmland can be made into pig feed, enabling the circular utilization of resources available in the livestock farm. It is expected to set up 10 vertical pig manure and urine resource recovery facilities (the biogas energy center and compost huts) to reduce GHG emissions and generate biogas power, with the target power generation of 11.27 GWh/year.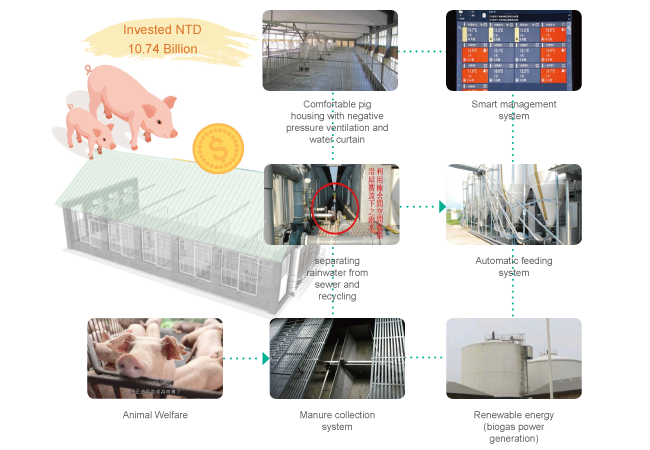 Related files:
Overall Renovation Plan of a Modern Livestock Hous(96Kb)

---
Dong Hai Feng Livestock Farm- Pig Housing with Green Energy & Water Resources Sharing
Dong Hai Feng Livestock Farm is TSC's first green pig demonstration farm, combining negative pressure ventilation and water curtain, biogas power generation and solar photovoltaics, with the goal of biogas power generation of 2.3 million kWh/year and 1.5 million kWh/year. The landscape greening of the whole farm is expected to be completed, and environmental education combined with the attractions and local specialty and characteristics introduction and tourism planning.
Dong Hai Feng Livestock Farm will introduce modern systems, including systems for ventilation and odor reduction, automatic feeding and water regulator, pig manure and urine collection system and public facilities of power supply system, water supply system, reclaimed water system, rainwater recovery system, sewer collection system and drainage system. The production cost can therefore be effectively reduced while the production capacity greatly increased by 20% and more, reaching 42,370 pigs/year, and the total water consumption can be reduced by 83%. This farm is scheduled to reach full production in 2020.
Moreover, Dong-Hai-Feng Circular Park designed separate sewer systems for excreta and rainwater, and the recovered rainwater is introduced to the pig housing to replenish water for water curtain and pig housing cleaning. In addition, the establishment of the biogas energy center and sewage treatment facilities can help with treatment of pig manure and urine inside and outside the farm, wastewater and agricultural waste in the neighborhood can also be disposed. It is planned to treat 200 tons of pig manure and urine inside and outside the farm as well as external agricultural waste, and 200 CMD of domestic sewage and treated biogas slurry in the biogas center. After pig manure and urine are collected, the anaerobic fermentation treatment method is used for wastewater. Solid-liquid seperation is carried out, and the seperated pig manure is dried or fermentated before reuse. Part of the liquid is provided for biogas power generation through anaeroibic fermentation, and the biogas slurry is used as the fertilizer in the farmland. On the other hand, some part of treated sewage meeting the water discharge stardards is used for irrigation within the circular park, aiming at reaching the coal of zero discharge of wastewater.


Related files:
The comparison table of Donghai Fengyuan Park and traditional pig raising – Full Content(91Kb)