Visions
To become a benchmark enterprise in health and green industries in Asia-Pacific Region.
Missions
To make contributions to the development of the country and investments in proactive industries in the future to stay in line with central policies.
To build a sustainable and circular Taiwan for people to live and work in peace and contentment.
Overall Goals
With the promotion of new agriculture and circular economy as the core to actively develop health and green industries.
Promote business performance, revenues and surplus year by year.
---
TSC has set an overall business strategy for the following 5 years and will adjust related strategies based on the review of the situation of target achievement with PDCA. In terms of the development of our businesses, TSC continues to actively cultivate talents to strengthen the physique of the corporation and improve business performance. At the same time, we also refer to government policies and the trends of industrial environment changes and base on our land resources, agricultural production and processing technology to propose directions for business transformation, upgrading and utilization of land resources with the core of being healthy and green as the main focus of the strategy for project promotion.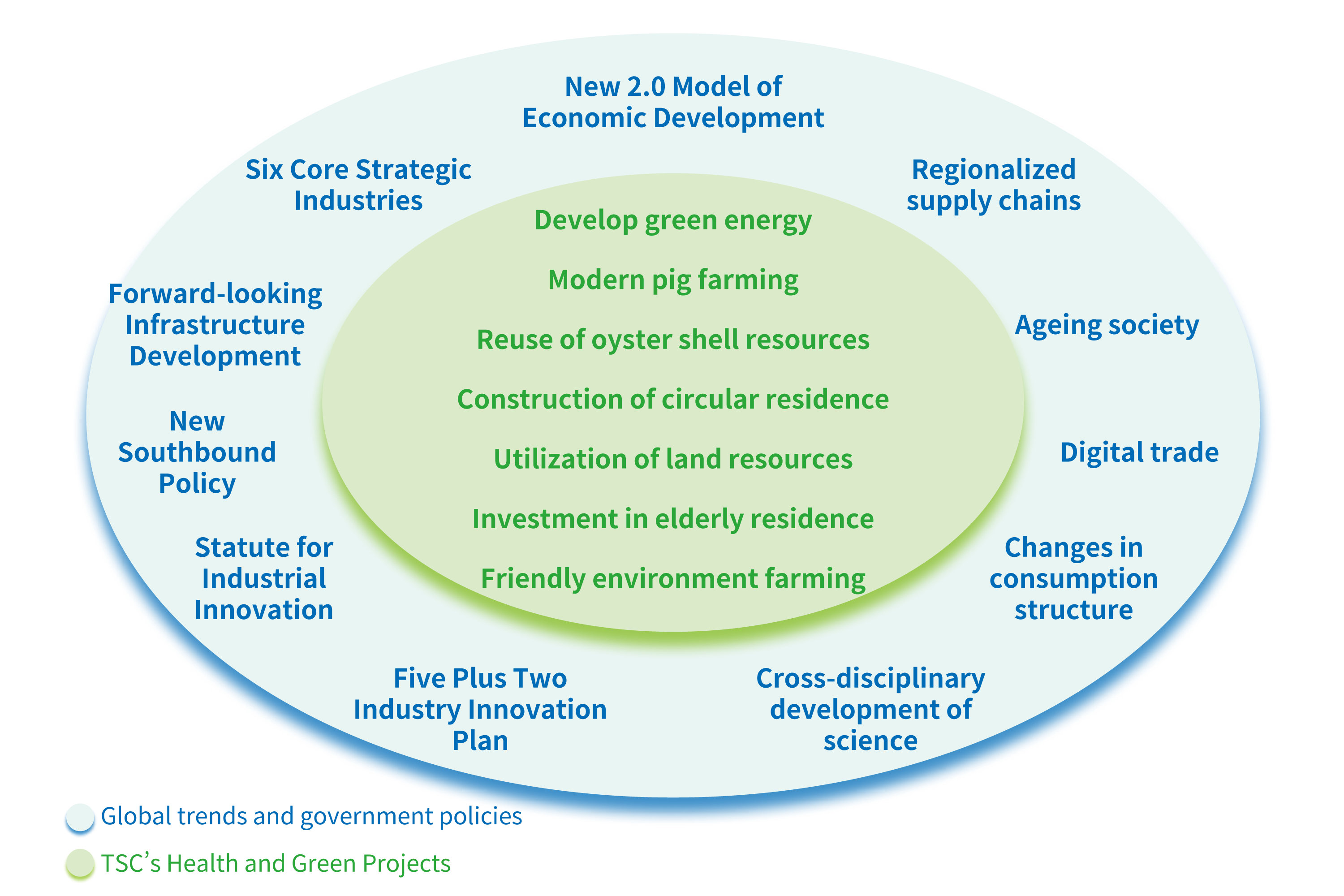 ---
The "TSC Corporate Sustainable Development Committee" has been set up to establish relevant procedural documents, with the general manager serving as the chairperson and the chairman as the steering member attending committee meetings on behalf of the board of directors. In addition,it is also in charge of incorporating the corporate sustainable development into the corporate operations and development directions, setting sustainable development policies, systems or related management guidelines, and preparing annual work plans and reports of implementation results every year. In addition, future business strategies related to sustainable development are submitted to the board of directors for deliberation in November each year. Economic, environmental and social issues arising from the operation activities are handled by four working groups. The organizers of each working group will set the group's work plan for the following year based on the execution status of the annual business and track the implementation of the plans of the current year.Department of Planning will then organize the submitted results and report them to the committee.