TSC combines pig farming, biogas, green energy, organic fertilizer and bio-refining technologies as the beginning of the promotion of circular economy in agriculture and livestock industries, which can reduce the dependence on raw materials and also reduce the environmental impacts.
---
In order to comply with the environmental protection laws and regulations, TSC has formulated Key Points for Environmental Management for the Operations of Air Pollution Prevention, and also included the ISO 14001 Environmental Management Standards to establish operations, inspections and emergency response measures to ensure compliance with laws and regulations related to air pollution. Prevention of air pollution begins with the rational reduction of pollutants in the process before being emitted into the exhaust gas, and air pollution control equipment handles pollutants in the exhaust gas.
The actual test results of the concentration of air pollutants over the years all met the emission standards stipulated by EPA. The NOx emission intensity in 2020 increased by 15.45% compared with 2019 while the SOx emission intensity increased by 14.29% compared with 2019, which was mainly because of the increase in the sugarcane yields and the processing amount in Shanhua and Huwei Sugar Refineries, coupled with the increase in waste input in Kanting Incineration Plant, leading to the increased air pollutant emissions overall. In addition, the company's overall revenue was decreased, resulting in the increased emission intensity. The air pollution control situation is shown as follows, and the emission concentrations all met legal standards.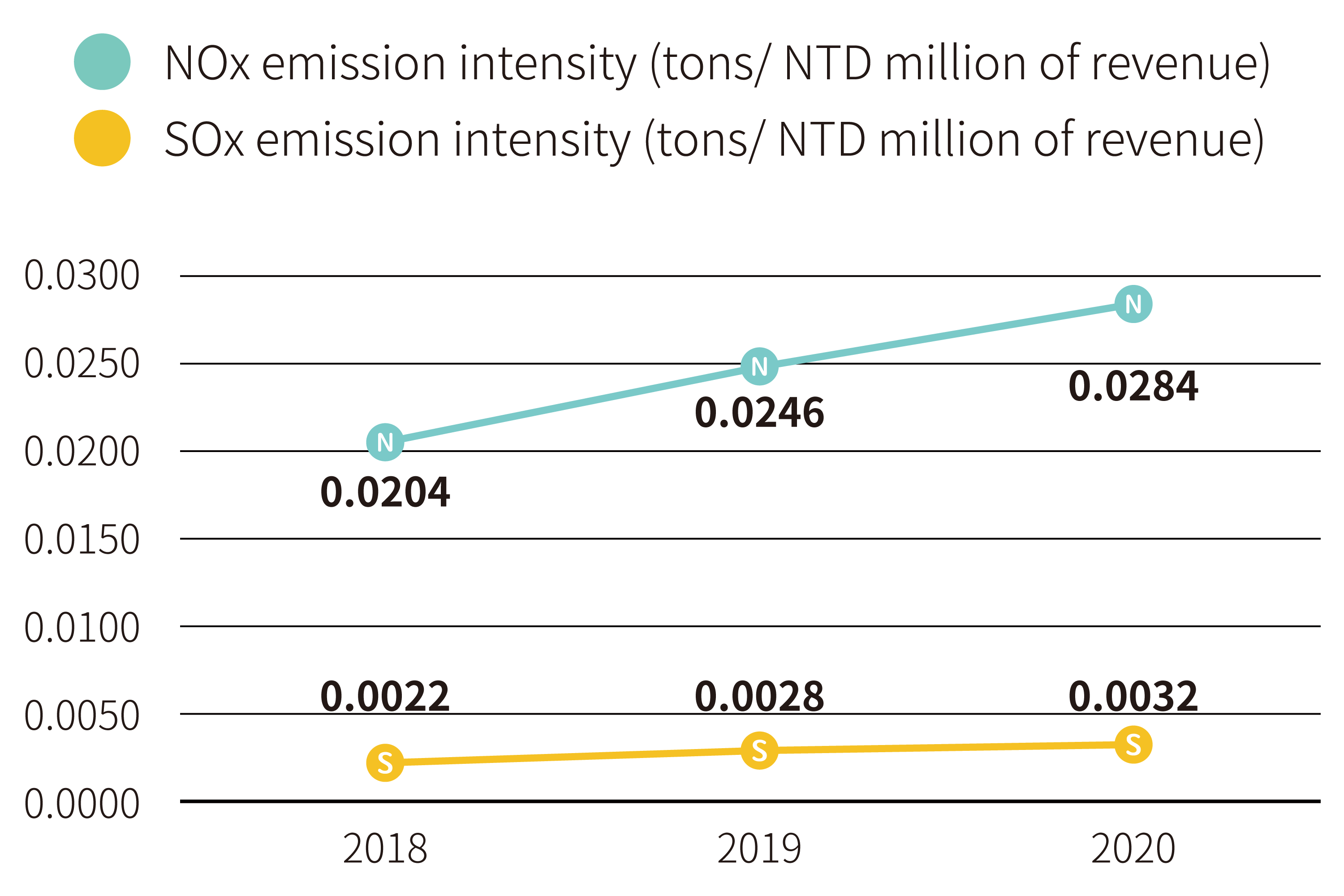 ---
A big fire broke out in TSC's land located in No. 1887 of Shalun Section, Guiren District in Tainan City on the evening of December 8th 2020, and the thick smoke was blown to the leeward areas of Gangshan and Nanzi Districts in Kaohsiung. TSC was impeached by Environmental Protection Bureau of both Kaohsiung City and Tainan City successively.
TSC did not stack any goods on such land and there was no "spontaneous combustion due to improper management" as stipulated in Item 3, Paragraph 1, Article 32 of Air Pollution Control Act, and nothing had been burned on it. In addition, Plans for Inspection Tours have also been established for land management. When our employees noticed fire, we immediately notified Fire Brigade to put out fire. Taiwan Sugar Corporation also sent letters to the Government Environmental Protection Bureau of both Kaohsiung City and Tainan City for the above statement and explanation.
After explanation of this case, Kaohsiung City Government issued a letter dated January 19, 2021 to withdraw the accusation. In addition, Tainan City Government also issued a letter of ruling on May 6, 2021, stating that the cause of fire was the "remaining flammable materials", and spontaneous combustion due to negligence in management or improper maintenance management was not found. Therefore, sanction was not imposed on TSC in this case.