TSC uses bagasse and animal waste from animal husbandry and agricultural waste materials with biomass potential for biogas power generation and adds solar power generation equipment to support the green energy policy of the government. In 2020, the total power generation from green energy and renewable energy amounted to 28.62 million kWh, reducing 14,569 metric tons of CO2e.
Long-term Goal

Project Content

Schedule
Independent supply of green energy

Installation of solar PV and biogas power generation equipment


In the forms of providing land, cooperative construction or lease for the royalties, the company is expected to complete the installation of equipment with the capacity of 443 MW by 2023 and will increase the installation year by year.
It is expected to complete roof-type solar PV and biogas power generation in TSC's livestock farms.

---
Solar Power Generation Plan
TSC makes use of the roofs and land of its business bases for self-installation and cooperative installation of solar power generation equipment. In addition to making good use of the value of space, we also reduce fossil fuel consumption and environmental pollution. As of 2020, rooftop solar power generation equipment has been installed in 83 locations in central, southern and eastern Taiwan, with the total capacity of 12.3MW , and installation of solar power generation equipment at unfavorable farming land and detention ponds have met the total capacity of 8.49MW .The annual power generation capacities are as follows.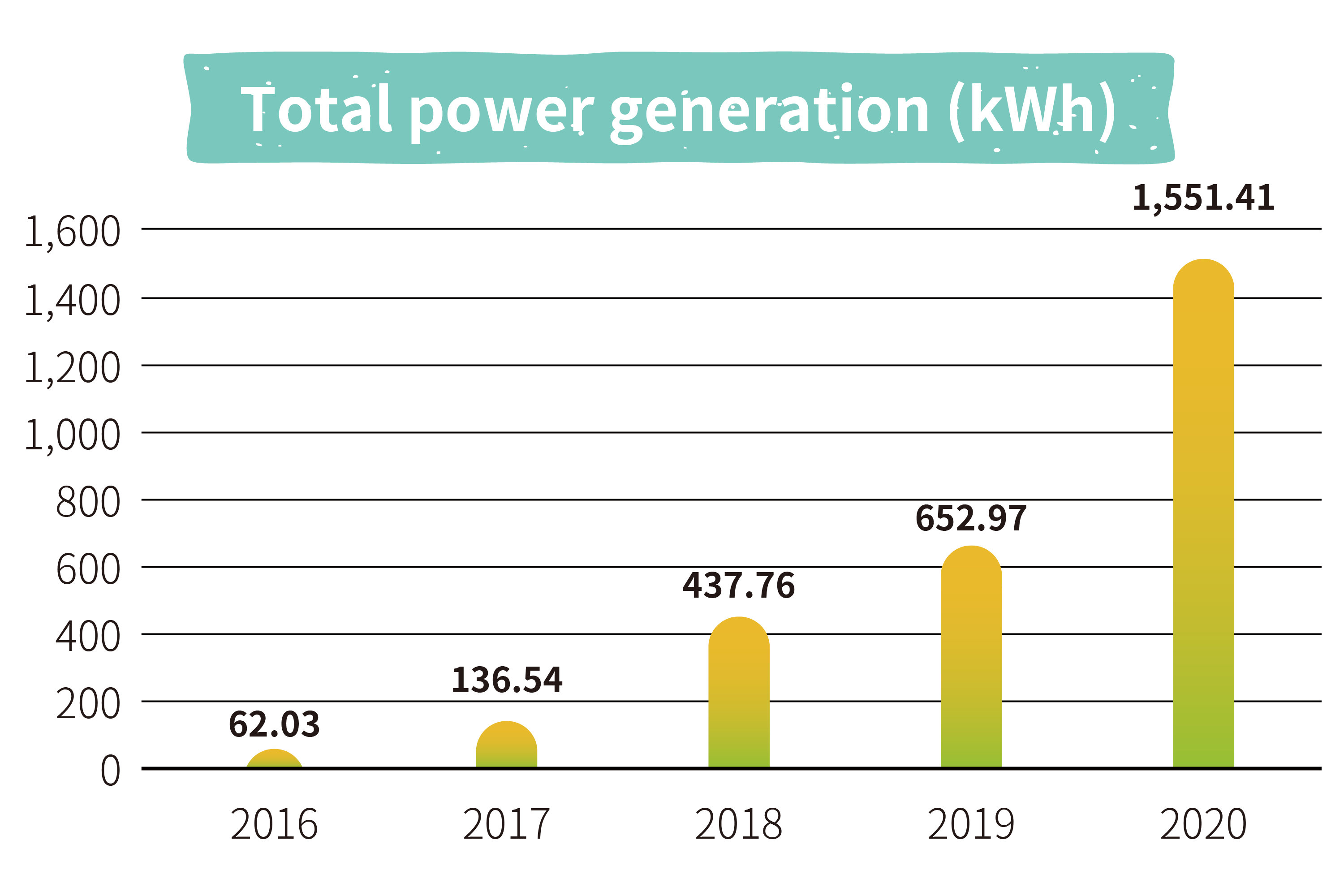 ---
Agricultural Waste Resources for Power Generation
To develop renewable energy and implement circular economy, TSC applies agricultural waste resources in power generation. In 2020, a total capacity of the green electricity from agricultural waste resources amounted to 12.94 million kWh.。
Huwei and Shanhua Refineries of the Sugar Business Division make use of the remaining bagasse for power generation for their own use, generating 12.67 million kWh of electricity in 2020.
In the four livestock farms of the Livestock Business Division, pig manure and urine are used for biogas power generation through the anaerobic digestion process. In 2020, 270 thousand kWh of electricity was produced, and among all, 72.7 thousand kWh was for self-use, while the remaining 197.3 thousand kWh was sold to Taiwan Power Company.
---
Supply Chain of the REC Market of Green Electricity, Biogas Power Generation from Pig Farming
In 2018, our First Livestock Farm in Da Xiang Yin in Pingtung became the first domestic REC certificate provider in the biomass power generation category. As of 2020, our Da Xiang Yin and Silin Livestock Farms have produced 169 certificates of biomass renewable energy, generating 169,000 kWh of green electricity, and completed transaction of 151 certificates. Currently, TSC remains the one and only domestic supplier of renewable energy certificates in the category of biomass energy.