The global pandemic of COVID-19 not only posed threat to the health of the public, but also caused social panic. What is worse, it even had far-reaching impact on domestic industries and global economy. TSC has taken a series of anti-epidemic measures. In addition, to bring the spirit of helping the hunger and drowning, we not only expanded our alcohol production line within the shortest time possible but also started the implementation of relief schemes such as rent deferral and rent reduction to work together with our fellow countrymen to go through the pandemic together.

---
Production and distribution of anti-pandemic alcohol
TSC staff has started working overtime to increase the capacity of 95% alcohol in 500 c.c. glass bottles with the daily production since February 3, 2020, and also contracted the manufacturing of 75% ethanol solution and Alcoholic Tissue for anti-epidemic purposes and market these products to major distribution channels domestically for the timely provision of materials needed for pandemic prevention. As of the end of 2020, we have cumulatively produced 2.34 million packs of Alcoholic Tissue, more than 4.77 million bottles of 75% ethanol solution (50c.c: 150,000 bottles; 350c.c: 3.21 million bottles, 60ml spray bottle: 10,018 bottles; 500cc 95% ethanol solution: 1.40 million bottles)
Relief schemes of premises rent deferral and rent reduction
In response to the possible impact on the lessees' income because of COVID-19 during the pandemic period, relief schemes are provided in accordance with the"Rent relief measures to tenants of state-owned enterprises under MOEA affected by severe pneumonia with novel pathogens" to provide bail-out programs to reduce the burden of enterprises and to fight against this pandemic together with our tenants.As of the end of 2020, the cumulative reduction amount reached NTD 426 million. (See the table below for the bail-out plans).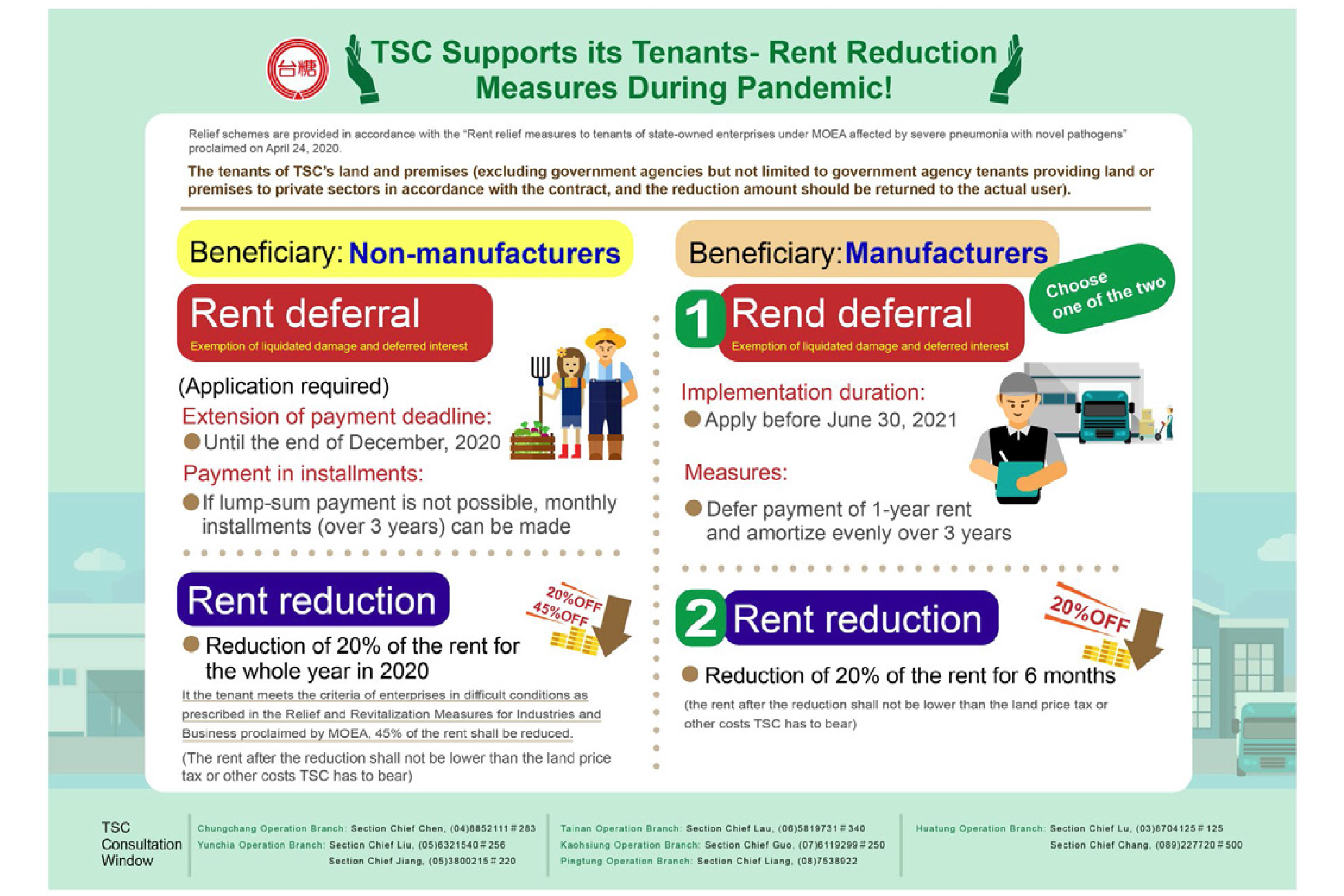 ---
All Units within TSC Relevant Policies in Response to COVID-19
All units within TSC set up emergency response teams and cooperate with relevant anti-epidemic measures of the government authorities to complete the following work items.:
We send out information concerning epidemic prevention through emails to all our employees. As of March 12, 2021, a total of 80 epidemic prevention messages have been sent out.
"Taiwan Sugar Corporation's COVID-19 Pandemic Prevention Measures" has been drafted.
Two meetings concerning the manpower utilization and office emergency measures in response to the severe pneumonia with novel pathogens (COVID-19) were convened.
Set up the business continuity planning in response to COVID-19, standard operatin g procedures to launch offsite work/ division of different working areas, epidemic prevention plan and operation regulations for the use of meeting rooms
Leave measures in response
Those who have been diagnosed, notified by medical institutions, and contacted confirmed cases and need to be quarantined will be paid as usual during the quarantine period.
Those who go abroad for non-business purposes will be subject to 14-day quarantine upon returning to Taiwan and will be registered as "disease prevention isolation leave".
Those who have to take care of their children due to the school suspension or policy to postpone the beginning of a new school semester may apply for the Unpaid Family Care Leave, and it will not affect their perfect attendance bonus, performance appraisal or other unfavorable treatment.
With the consent of the supervisor of the unit, the employees can complete the application within one year after the epidemic ends.
Cancellation of travel abroad approved before the notification from the CECC on March 20, 2020, and the losses of prepaid travel expenses and flight tickets shall be compensated after evaluation and confirmation.
Measures Taking Care of Employees Stationed Abroad
For overseas personnel who return to Taiwan to report their work during the epidemic prevention period, they will still be paid the living expenses overseas during their stay in Taiwan, and the salary will be paid during home isolation and home-based quarantine period.
The overseas personnel are required to implement home-based quarantine when they return back to where they are stationed, and the company will cover the expenses including flight tickets and accommodations for epidemic prevention. The accommodation (hotel) can be referred to the employees by CECC or reserved by the employees on their own.
When the personnel stationed abroad return to Taiwan to report their work, their expenses on accommodation for quarantine will be adjusted to NTD 2,400/day (from the original maximum of NTD 2,000/day) in accordance with the standard for the Selected Appointment Rank personnel in the administrative agencies.
The number of masks needed (45 masks per week) for a total of 15 employees in 6 overseas units with the coordination of MOEA and MOFA to provide. (Ban on masks exports was lifted from June 1, 2020)
We strive to give priority of vaccination to those stationed abroad to ensure their safety and health when they return to where they arestationed.